How to find a big house for a family without borrowing thousands of euros from the bank and without going into debt for 25 or 30 years? Thousands of French people should be asking themselves this question… Property prices are skyrocketing, loans are getting harder and rents are not falling. In Mayenne, near Château Gontier, real estate is as rare and expensive as anywhere else, which is why Laura Brunet and Mathieu Guélou, a young couple who couldn't find the right property, decided to start building a life: a house out of containers. . They had to sweat blood and nails to achieve this, but the result is magnificent! Opening.
Container house of Laura and Mathieu
For their beautiful home, the lovers decided to invest in six shipping containers that are now offered to them. 140 m² of living space. But the Local Urban Plan of their city imposed certain rules, such as this wooden cladding that they covered all the metal parts with … Chalets outside, containers inside! When they finally find their land in Château Gontier, they don't hesitate for a second to invest in the 600 m² offered to them… But above all, they decide to build their dream home themselves!
Independent construction according to the "rules of art"
Obviously, the main advantage of containers is that they do not require major masonry work. The walls are delivered already assembled, but it was necessary to bring more specialists in foundation and earthworks. Otherwise it was System D! Mathieu documented himself on the Internet, with books and consulted with people who had already taken the step towards self-construction… Perhaps he made contact with Capuchin and Florent, who built their container house in Doubs?
A little tour of the owner?
The Mayennes chose shipping containers measuring 12 by 2.40 meters and weighing 3.7 tons each… It is said to be "the last trip"., that is, they are used to send equipment or personal effects abroad, but not chemicals. Their structure is in perfect condition, but there are some imperfections on the floor or some bumps on the walls. Several photos of the interior show a neat finish that combines wood and modern materials, but few images; they may want to keep some of their privacy!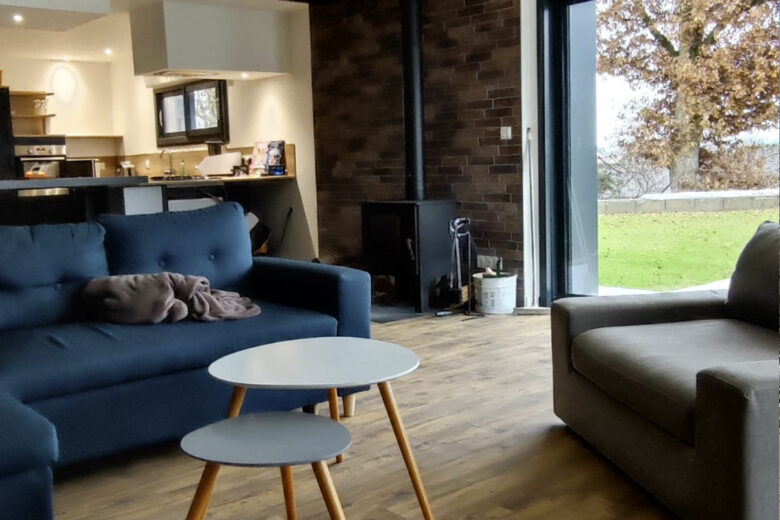 Thus, today they are at the head of a 140 m² house and a two-car garage; per…