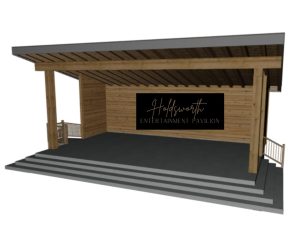 VERSAILLES, V The crowdfunding campaign to create a music and entertainment space in the Place de la Court in Versailles has surpassed its goal and there are still many days to go.
Last month Lieutenant Governor. Suzanne Crouch and the Indiana Housing and Community Development Authority (IHCDA) launched a $50,000 campaign.
Main Street Versailles was named campaign manager and had to raise 50,000 people by July 10 to qualify for the IHCDA Creating Places grant.
As of Tuesday morning, the crowdfunding campaign has raised $55,243.
The funds will be used to build the Holdsworth Entertainment Pavilion in honor of Gary and Patsy Holdsworth for their years of dedication to music programs at South Ripley's schools.
The pavilion is planned to be built in a small park on the square in front of the courthouse, where two dilapidated houses once stood.
As the original fundraising goal was met, a new $60,000 goal was set to purchase percussion playing instruments for the park.