Courbevoie (92) The 184-room, 4-star establishment opened its doors on June 24 in an area where the hospitality industry is reinventing itself and also opening up to vacationers and tourists. Meeting with Romain Follio, General Manager of the hotel.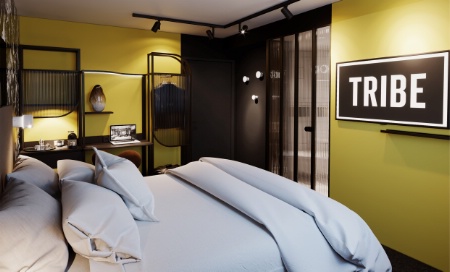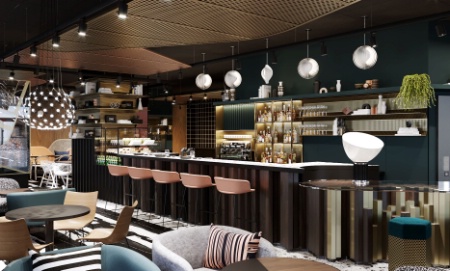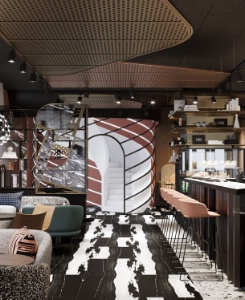 With 184 rooms opening March 24, the Tribe Paris La Defense offers a new lifestyle for business and leisure travelers in La Defense (Hauts-de-Seine) who are more accustomed to traditional business hotels. "We want to offer an updated hotel offering that is a place to live from dawn to dusk for both our resident and local clientele, while tying into local life to bring our hotel to life." detailed Romain Folliogeneral manager of the hotel, who adds: "Our goal is to give pleasure by delighting."
For this, the architect Thierry d'Istria imagined a large space on the ground floor – The Social Hub – that could serve as a breakfast room in the morning, turn into a co-working space in the morning and afternoon, and a restaurant at lunchtime and in the evening. The bar in the center of the room also serves cocktails in the evenings. There is also a coffee shop and a fast food menu. The Byron bar on the ground floor, which is currently under construction, completes this offer, with an interior room and a green terrace that is easy to privatize for business clients or individuals.
Affordable luxury and Australian spirit
"At Tribe, we are very attached to the notion of affordable luxury, with a more affordable price range than in inner Paris for 4-star comfort, with elaborate design and equipment, in particular high-quality bedding, and the catering offer is quite up and running. . The emergence of similar hotel brands – Citizen M, Mama Shelter, Okko, etc. – bodes well, as it signals a new momentum for the La Defense area. ", emphasizes Romain Follio.
The second strong brand feature developed by Ennismore: to offer "perfect home" in different areas of the hotel, which the client can choose and use during the day. In the rooms, the customer has his own espresso machine, he can broadcast his own videos on TV … "Covid has raised customer expectations, which we have adjusted to. We are giving new responses to behavior that is also new."the director says.
And to distinguish itself from other lifestyle brands in the neighborhood, the hotel emphasized…