The Nantes area has a rather special tiny house builder: Ideal Tiny, which is based in Bignon (44) and is a group of multidisciplinary employees who work together in a "citizen company". All participants share two common passions: working with wood and innovation in interior design. Ideal Tiny is also an ethical commitment with slogans sustainable development and solidarity.
About forty professionals work in an alternative habitat – a tiny house. These employees are at the service of customers and stand for short circuits, sustainable materials, responsible and French production. These are all the values ​​that convinced the couple to choose the Ideal Tiny for their little motorhome. Focus on Natalie and Baby Samuel!
"Little Natalie and Samuel"
The couple wanted to have an elevated living room with a pantry downstairs. Perched on a 7.20m trailer, access to this tiny house is via small japanese stairs which was made to order. The kitchen they chose in L has a sink, 3-burner gas stove and a 91-litre refrigerator, as well as laminate worktops and plenty of storage space. The sleeping area is on the mezzanine, separated by solid railings, to which the miller's staircase leads. Below is a bathroom with shower 80 cm x 80 cm, spruce washbasin cabinet and air extractor. A gas boiler and dry toilets are also located under the mezzanine.
Specifications
This tiny house is personalized but originally built on a water-to-air model:
Trailer 7.20 m
Internal area: 25 m²
Energy: Gas network
Wooden-frame house type MOB 95x45mm
Biofib'Trio insulation 100 mm thick.
Internal lining made of 10 mm thick, environmentally friendly poplar plywood.
Ribbed roof London Gray Mauka Line® (45 cm)
Laminated parquet with integrated underlay
Argon double glazing 4/16/4mm (2 sides tempered safety glass) PVC: anthracite gray outside/white inside OR anthracite gray outside/inside
Planking: original Douglas, 100% sapwood free
As far as energy is concerned, it may not be a gas network; client will be able to choose the appropriate energy mode to his project. Natalie and Samuel's tiny home was rented out unfurnished, which is left to the choice of the new owners.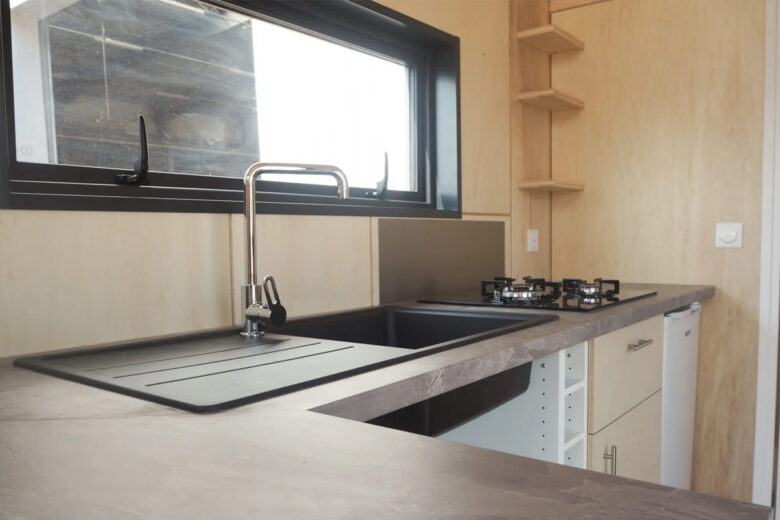 Dates and contacts
Ideal Tiny is based in Bignon, in the Loire-Atlantique, and announces datesdelivery from 3 to 6 months with a 3 year manufacturer's warranty. There is no price on the site; for any request for a quote or information, you can them…