Bond, my name is Bond! If you are a fan of Agent 007, you may have seen in one of his films a huge glass house called the Triangle House or Tarzan's residence. This piece of art was built in 1960 and was hyper-futuristic for the time… Architect's work Harry Gesner, it is located in California, at the end of a long private road between two hills. The concrete triangle appears to be supported by the two hillsides that surround it. Installed on a plot of 5200 square meters and invisible from the outside, it offers living area 483 m². Opening.
Harry Gesnervisionary architect
Harry Harmer Gesner is an American architect from California, born in 1925. After serving in the U.S. Army during World War II, Gesner became a self-taught architect who felt that the programs of major architecture schools were not suitable for him. He is the designer of the Triangle House as well as the Wave House which inspired the Sydney Opera House (Australia) or the Cocoon House in Malibu. one of his most famous achievements. In 1960, the year it was built, the Triangular House is a modern masterpiece… The 97-year-old architect is still with us and lives in Oxnard, California.
Small visit?
In a James Bond movie she is the lair of the villain, and it must be admitted that its geometric facade and protruding corners radiate a certain mystery, even a certain aggressiveness. A miniature replica has been installed in a large park that serves as a guest house… Finally, in the main building, you enter the living room, located below the entrance, which has a dining area and a huge fireplace. The kitchen is majesticwith face-to-face storage modules, which contains all possible high-tech home appliances.
Four bedrooms accommodate hosts, including Suite with glass wall view and which is open to the outside. In the basement there is a huge cinema room with a giant screen, as well as a futuristic shed, like the house, wine cellar and built-in multimedia system. With its huge bay windows, it's obvious that natural light illuminates the interior throughout the day…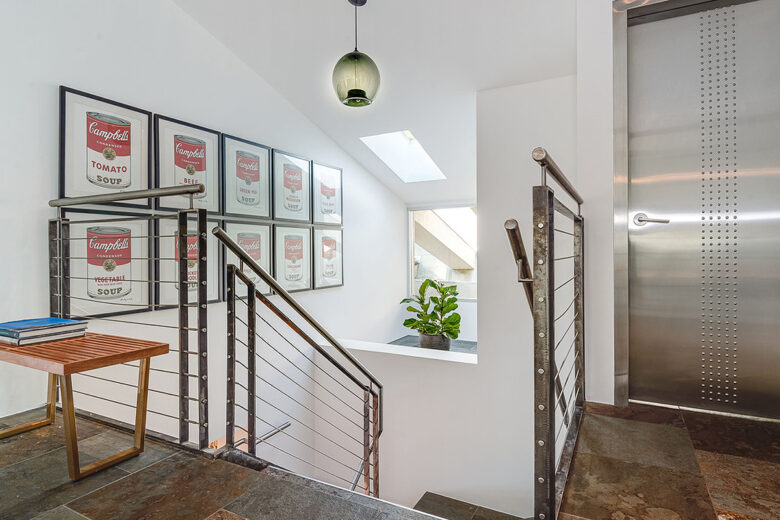 Outside is not bad either!
A huge plot of 5200 m² is located little harbor of the world, with a large swimming pool, lush vegetation, a sauna, a pool house and many small entertainment areas … Several outdoor kitchens were equipped for eating in different places in the park. The current owners purchased the Triangular House for 2.7…